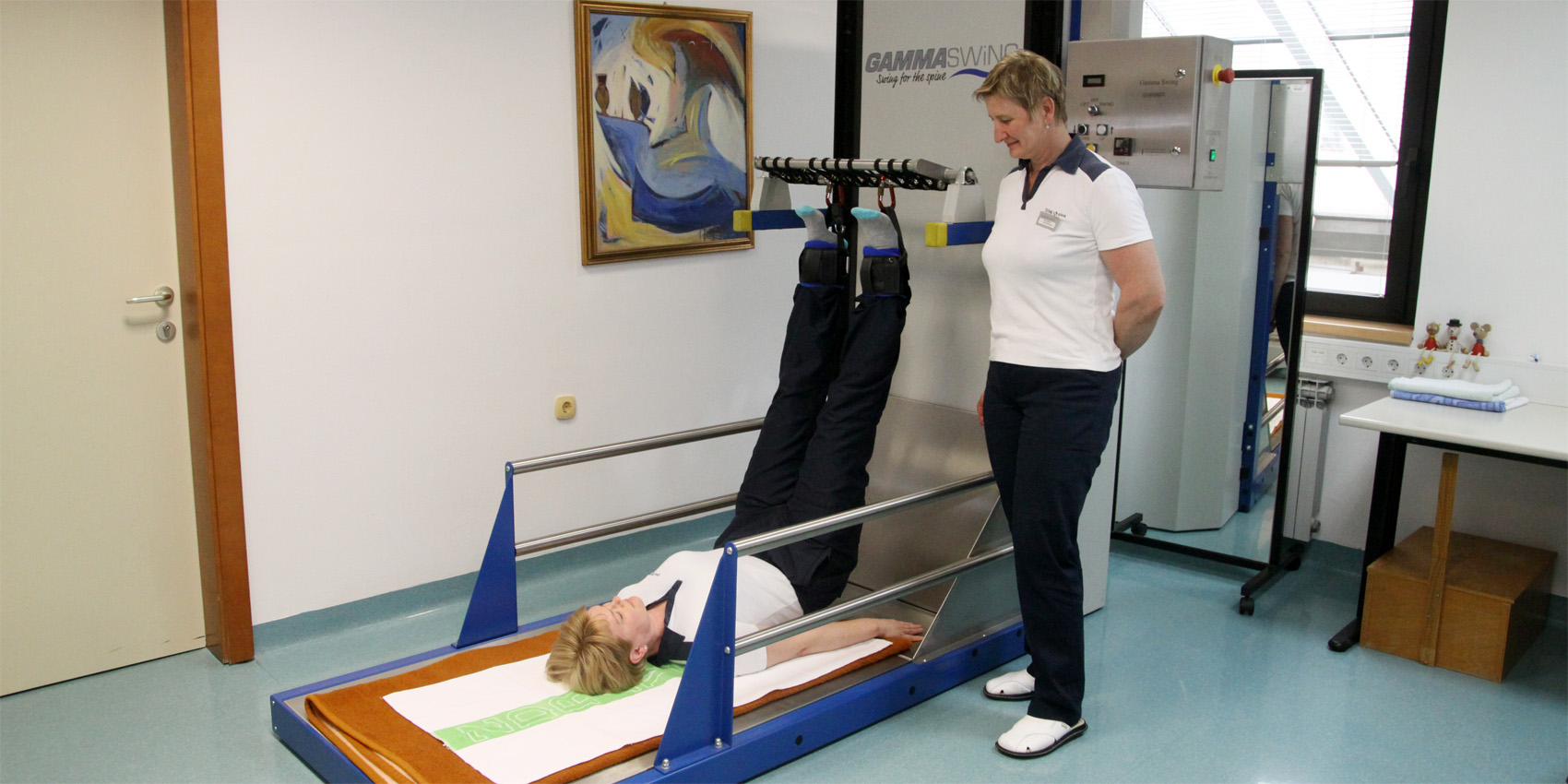 Back pain treatment with Gamma Swing
8. 1.–30. 12. 2019
7 nights 643,60 €
10 nights 929,60 €
14 nights 1274,40 €
*Medical examinations: 7-day accommodation – initial examination, 14-day accommodation – initial, follow-up and final examination. Rates apply per person in a double room.
The Gamma Swing treatment, which combines back extension with swinging movement, was developed by a famous orthopaedist, Ferdinand Gundolf, MD, from the Orthopaedic Clinic in Innsbruck and it is successfully used at our spa. This new and effective treatment helps relieve the damaged intervertebral discs and reduce the pain.
A special device for spinal extension
During the procedure, the patient is gradually pulled up into the air by means of specially upholstered swings, which are fixed along the distal portion of the lower leg. Gentle extension of muscles and ligaments and relaxation of intervertebral joints as well as decompression in the area of the intervertebral discs is achieved with elastic suspension. The Gamma Swing treatment also has a positive effect on leg relief which is particularly welcome in patients with varicose veins and lymphatic swelling.
The programme includes:
examination by a specialist (n. 1)*,
3x Gamma Swing treatment,
6x per week medical gymnastics,
5x per week pain relief therapy,
4x per week partial manual massage,
6x per week hydrogymnastics,
lodging with half board,
unlimited swimming.
Discounts:
Members of the Terme Krka Club have a 10% discount on accommodation. 
Surcharges:
Tourist tax per person per night, full board.

New Year's Eve dinner: €140/person, children (ages 6 to 12): €70/person, children (ages up to 6): free of charge.